Updated 9/12/07 - Other Opinion and Rating Organizations
Opinions and information is for the sole use of The Small Businessman and is not intended for use by the media or for any other particular use other than by the site owner. Listed companies are in alphabetical order. This is intended to help the Small Businessman assist Client Companies to improve their business processes and ethics - not to diminish their sales or sales prospects.
What's their credit like?
Those that would sit in judgment of you are also the least qualified to do so.
---
How common abuses are subjectively defined.
Junk Mail - any un requested sales mail that comes to your home or business.

Spam - any un requested sales email that comes to your home or business even if it is through "partners" and third parties.
Cold Calling - any un requested or unwelcome sales calls to your home.
Phone Support Abuse - Excessive automated phone systems. Long hold times, rushed support, impatient support technicians,etc.
Unresolved Support Issues.
Poor refund policies.
Misleading Advertising - overstated products, etc.
Bad Credit Reporting- generating errors that are submitted to credit reporting agencies that result in your bad credit.
Avoidance - hiding phone numbers and contact info from consumers.
Slow Response - Snail mail, email and phone messages that are not answered in a timely manner.
Rude Customer Service and/or Support
Hoop Jumping - Making customer jump through so many hoops that they tend to give up.
Free gifts that aren't really free because you have to do something to get it or worse.
Enticement checks to get you to use services, etc. Usually a couple of dollars. or Loan checks with ultra-high interest in fine print.
Regular advertising that is sent with Priority Express or Urgent dated information and open immediately instructions. Exaggerating urgency.
Envelopes that contain what "feels" like a credit card inside only to discover a simple loan offer.
Stealing property or holding property hostage without ethical reason. Not releasing held property or deposits in a timely manner. Not giving back interest on serious amounts of money in accounts kept over 30 days
Sales where customer signs term agreement only to be surprised later at the term itself or other serious short comings in the product but still bound by the term or where a company does "email" or "web posting" changes in the terms with contracts that bind consumers to those terms, then typically sticking consumer with much higher rate increases. This also applies to credit card contracts.
Contracts that are "living" and constantly changing in favor of the vendor and at the detriment of the consumer and/or require constant (more than yearly) rereads and rewritten without pointing out the changes or comparing changes to exact section in old contract. (typically done by less than reputable credit card companies including most of the major bank cards.)
99 CENT Pricing. A company that sells things for $99.99, etc, trying to make customer think that it is not $100.
Poor Rebate Policies - Done in fine print, late checks, no check, hidden company names or phone numbers, denials of legitimate rebates.
Fine Print - Bad news often travels in fine print in order to hide it from customers who don't take the time to get their magnified reading glasses. Most credit card companies are guilty of this tactic as customers watch ballooning interest rates and finance charges warned about within the fine print.





What the Paws Mean
= PROBLEM by GETEM'S SUBJECTIVE STANDARDS. THIS INCLUDES JUNK MAIL, PHONE SOLICITATIONS, MINOR MISTAKES, CUSTOMER INCONVENIENCES

= (NEW) VERY UNETHICAL OR SERIOUS PROBLEM by GETEM'S SUBJECTIVE STANDARDS. THIS INCLUDES SAFETY ISSUES OR ISSUES THAT COST THE CONSUMER MORE MONEY THAN EXPECTED

= GET'EM RECEIVED A COMMITMENT TO CORRECT (PENDING)
To Opt out of the credit reporting agencies tactic of giving out your personal information to junk mailers and other companies, call:
(888) 567-8688
HOT LINKS
Protecting Your Social Security Number
---
WARTIME HOME SAFETY VIOLATIONS!
ENVELOPES WITH NO COMPANY NAME ATTACHED.
HOW TO SUBMIT A COMPANY TO THE LIST.
Submissions must be emailed to comments@getem.net with a complete explanation including as accurate a time and date as possible with information so that we can contact the company.
HOW TO REMOVE A BAD REMARK.
Submit apologies, disputes and/or statements that your company is in the process of correcting or has corrected the situation by either phoning the Small Businessman at (916) 315-8121 or emailing

comments@getem.net

. Upon correction, remark will be cleared or filed in the event of return to abusive situation. The Small Businessman does not charge for corrections, nor does it accept advertising for this site.
---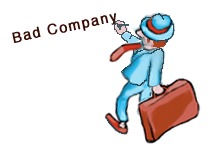 While American Business Ethics leave a lot to be desired, and while some companies are trying to improve their policies and activities, some Americans seem to have developed a superiority complex that justifies our international intervention because they feel we are morally superior to all other nations. It is my opinion that we are not and never have been morally superior to other nations. If we plan to ever lead the world, we must first clean up our act at home. We can ill afford to have our largest and most powerful corporations doing unethical activities in the market place at home and abroad. It is we the people that have allowed this to happen through our financing their unethical and sometimes illegal activities to the extent that we have ignored our own Constitution and often legalized unethical practices.